Partners in Care
What is the Partners in Care Program?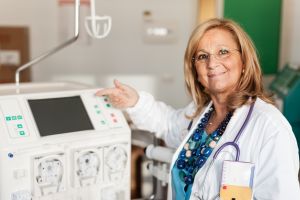 DPC Partners in Care is a program uniting dedicated kidney care professionals—including doctors, nurses, social workers, dietitians, dialysis facility/clinic managers and others—who share DPC's mission of promoting quality kidney care for all patients. We provide kidney care professionals with a variety of valuable kidney care tools, resources and information.
DPC Partners in Care strives to:
Improve and increase communication between caregivers and patients
Create a nationwide community of caregiver advocates
Support patients in their advocacy efforts by uniting patients and care providers in grassroots activities
Deliver updates of key public policy issues and matters of importance to kidney care
Provide Partners in Care with a greater understanding of the patient community's perspective on these issues
Enhance patients education by joining Partners in Care with Patient Ambassadors to help encourage patients to become more involved in their care
Give patients increased avenues for reaching out to lawmakers and others with their thoughts, ideas and concerns
Benefits of Membership
Free DPC monthly e-newsletter and quarterly print newsletter—covering federal and highlighted state legislation, member profiles, and important news developments
Invitations to informative educational invitations
For members going over and above, recognition in DPC e-newsletters and print newsletters for being a leader in strengthening the patient-clinician relationship
Join DPC
Thank you for your interest in joining Dialysis Patient Citizen's network. To get started, fill out the fields below so that we can better assist you.
Dialysis Patient Citizens (DPC) values the privacy of our members. All member information remains the confidential property of DPC and will never be shared or sold to any third party entity.