By Jackson Williams, Director of Regulatory Affairs and General Counsel, Dialysis Patient Citizens
Dialysis Patient Citizens (DPC) thanks everyone who completed its 2018 Patient Survey. It is another way to make your voices heard. We use our patient survey to get your input on current issues and to convey your opinions to policymakers in Washington, DC.
This year, our survey included questions on two recent developments in Washington:
Medicare's "Meaningful Measures" Initiative: In early 2018, Medicare officials announced plans to reduce the number of quality measures it uses to hold health care providers accountable. This meant that for dialysis care, the ESRD Quality Incentive Program (QIP) was due to undergo changes. We surveyed patients on which elements of quality of care were most important to you.
The Kidney Innovation Accelerator ("KidneyX") Initiative: KidneyX is a public-private partnership to accelerate innovation in the prevention, diagnosis and treatment of kidney diseases. In collaboration with the American Society of Nephrology, we surveyed patients on which burdens of kidney disease and dialysis care you most want to see addressed by new technology.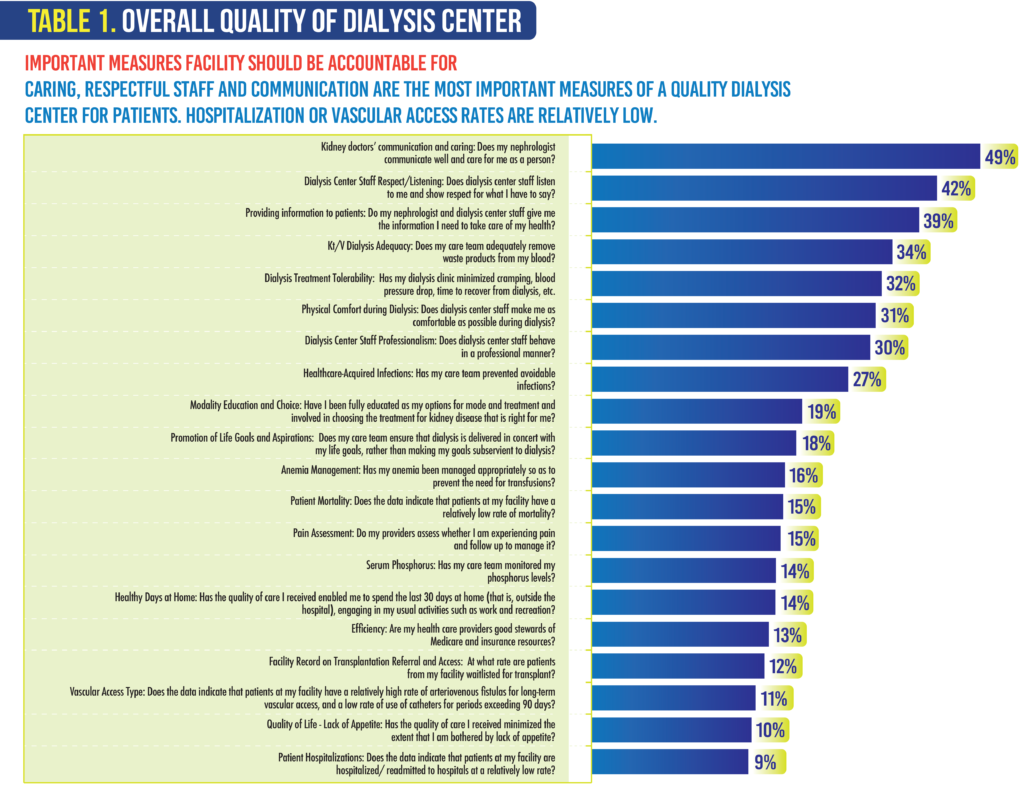 Patients' Priorities for Quality Measurement
Table 1 displays the results of a survey question that listed 20 areas of quality or patient experience and asked patients to choose no more than five measurement priorities. This list was not comprehensive but was intended to sound out patients on a variety of dimensions of their care, as well as specific issues contained in the 2018 proposed QIP changes.
Five of the top seven areas relate to patients' experience of care that are asked about in the ICH-CAHPS survey of in-center dialysis patients. Currently, the responses to the ICH-CAHPS questions about facility staff respect, listening, and professionalism, and physical comfort during dialysis, are rolled into composite measures. After the response to the survey questions indicating the importance of these qualities, DPC urged Medicare to break these out and report each one individually.
The large amount of patient interest in measures of satisfaction with their care highlights the current crisis in survey response rates and its impact on the ICH-CAHPS. Because of a longtime, nationwide trend in fewer Americans taking time to answer surveys, measures go unreported for half of U.S. dialysis facilities that do not receive the minimum 30 returned surveys. DPC has urged Medicare to urgently step-up efforts to find ways to obtain and report ICH-CAHPS scores for a greater proportion of facilities; they tell us that changes may be coming in the next few years.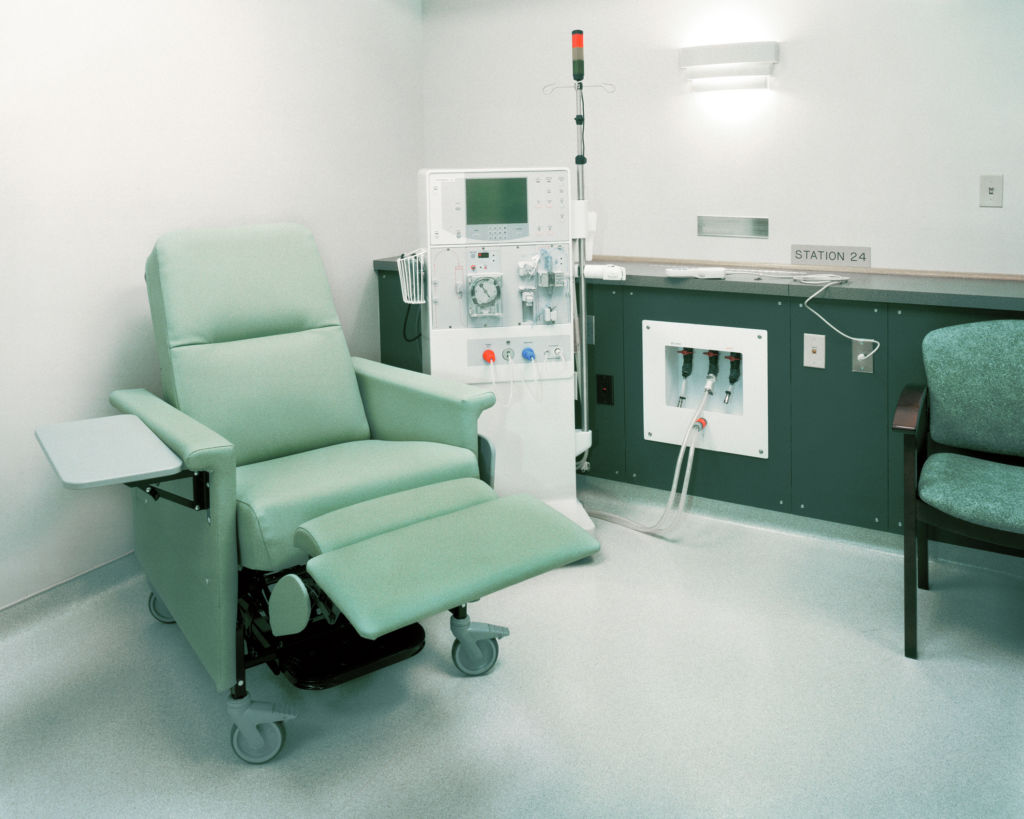 Both our membership and volunteer leadership agree that the following areas should be given priority in the Quality Incentive Program:
Dialysis Adequacy
Safety/Bloodstream Infections
Depression Management
Medication Management
Experience/Satisfaction with Care (ICH-CAHPS)
Patient-Reported Outcomes
We urged Medicare to reduce the QIP measure set from 11 to a smaller set with greater weights, to focus providers' attention and resources on improvement or maintenance of quality in areas of importance to patients.
Patients continue to prioritize dialysis adequacy (Kt/V) as an important measure. Many kidney care experts think this measure is "topped out," meaning that nearly all facilities perform well, and the measure no longer distinguishes among them. In light of the survey results, DPC urged Medicare to keep this measure in the QIP due to its importance to patients.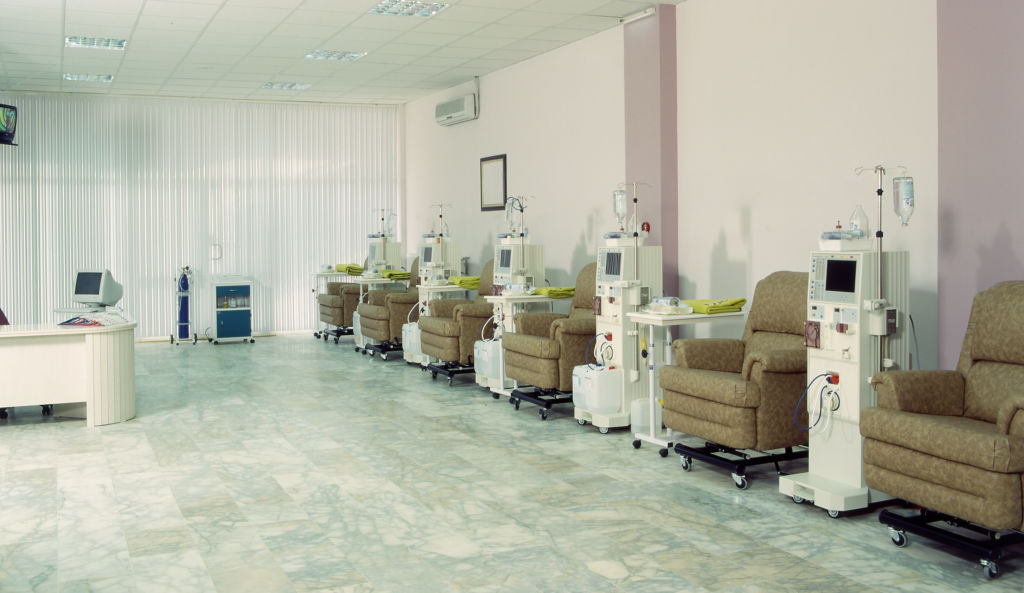 This year, Medicare removed the Serum Phosphorus and Pain Assessment measures from the QIP. The results of our survey found that these dimensions of care areas were not that important to patients. Thus, we did not object when CMS wanted to remove them as areas for which dialysis clinics should be held accountable.
In addition, Medicare added a Transplant Waitlisted measure to the QIP. It appears from our survey that patients do not think this is an outcome for which dialysis clinics should be held accountable, so we urged that this measure continue to be reported on the Dialysis Facility Compare website, but we did not urge its inclusion in the QIP.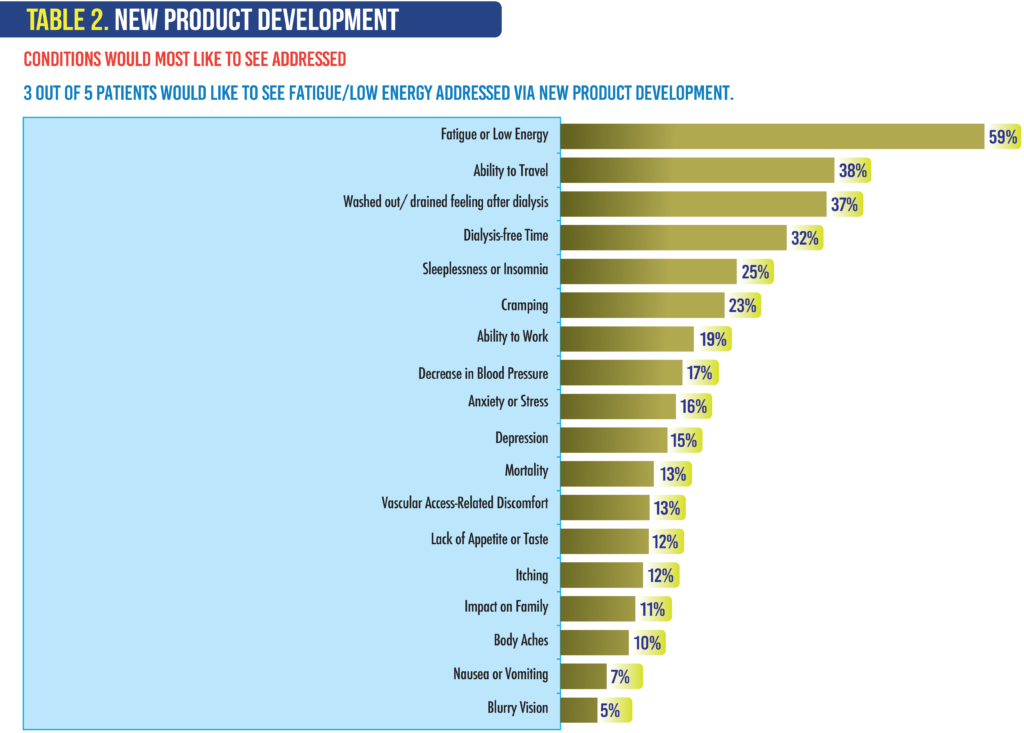 Patients' Priorities for Innovation
DPC also surveyed our members to seek your priorities for innovation. We asked patients what conditions they would most like to see addressed by innovative technologies. As Table 2 indicates, nearly 60 percent of patients cited the fatigue and low energy level that results from ESRD as a condition they hope could be alleviated by new technology. Generally, patients cited three categories of conditions that merit improvement from new technology:
The effects of dialysis treatment. Current dialysis technology, which has scarcely improved since its inception, leaves patients feeling drained after the treatment and generally fatigued most of the time. As one of our board members observed, it is this fatigue that prevents most patients from remaining employed. For patients, relief from other side effects of dialysis, such as cramping and the drop in blood pressure sometimes called "crashing" would also be welcomed.
The physical constraints of dialysis. One of our board members referred to the burden of the time and location commitment to treatments as "the shackles of dialysis." Patients would be grateful for relief from these constraints through an implantable or wearable artificial kidney.
The symptoms of ESRD. Dialysis cannot fully replace the body's kidneys; any new technology that can ease ESRD symptoms like insomnia, nausea, lack of appetite and itching—conditions that dialysis can't eliminate—would have considerable value to patients.
DPC will continue to seek your ideas and opinions in the coming year. We will continue to share what is important to you with lawmakers as well as with other organizations that can benefit from knowing both your needs and concerns. We hope that you will complete our 2019 Annual Survey, which will be available later this year.