DPC's annual Kidney Month fly-in was held last Wednesday and Thursday (March 4 & 5).  Patient advocates from across the country flew to Washington, DC to speak with their Members of Congress on issues critical to their care.  And despite numerous obstacles, they made sure their voices were heard.
On March 4, patient advocates participated in an in-depth advocacy training, as many were going to Capitol Hill for the first time. This training helped to ensure that participants had the information and confidence to discuss the importance of preserving dialysis funding as well as why dialysis patients should be allowed to enroll in Medicare Advantage (both contained in newly introduced legislation). They were also prepared for almost every possibility, including snow. And many received dialysis that evening.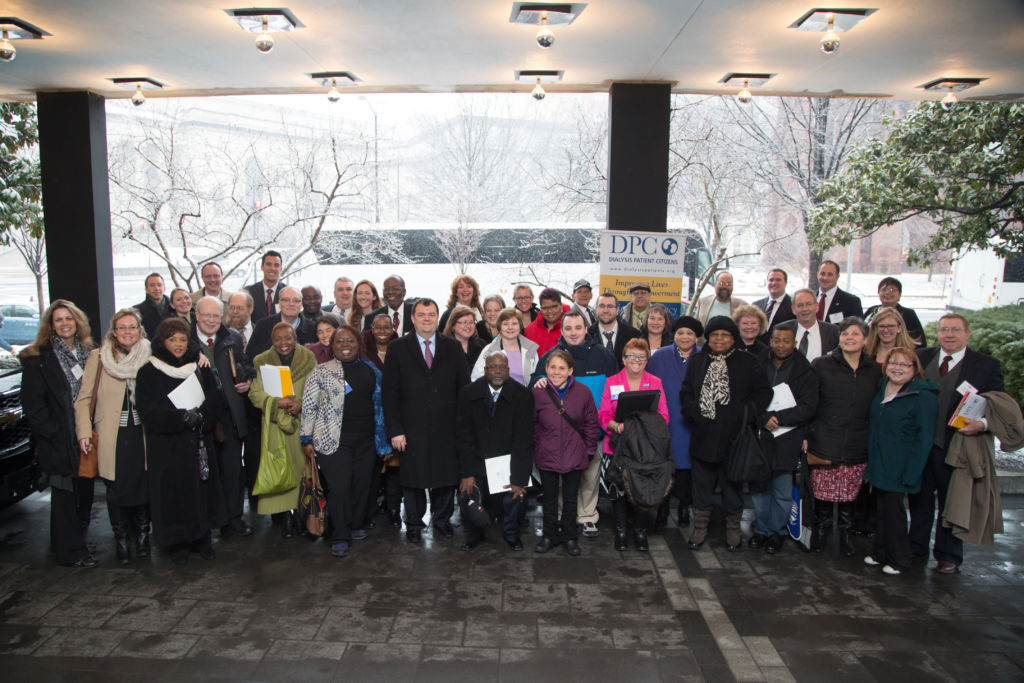 Advocates from across the country gathering before they go to Capitol Hill
On March 5, as our advocates ate breakfast, the snow began to fall. The federal government also just announced that it would close for the day, expecting the snow to continue throughout the day. Despite the weather conditions, patients (who were joined by several healthcare professionals) trudged through the ice-cold wind and snow to Capitol Hill, determined to share their stories and remind their Members of Congress that dialysis patients are more than just a line-item in the federal budget.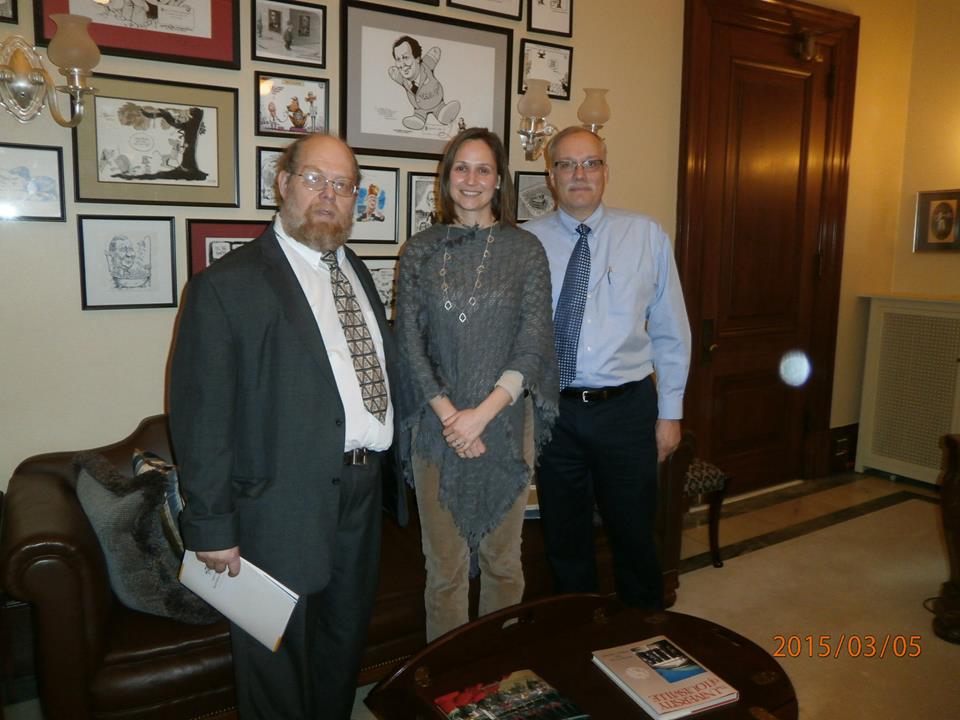 DPC Patient Ambassador Darrel Ratliff with Sen. Mitch McConnell's staff
Despite the weather and federal government closure, most congressional offices were still open that day, perhaps because many back home do not like to hear that their elected officials took the day off due to the threat of snow. That was not the case for other advocacy organizations, as many decided to cancel their Capitol Hill visits. As a result, our advocates had the chance to hold lengthy meetings with congressional staff as well as several Members of Congress who were scheduled to fly home that evening.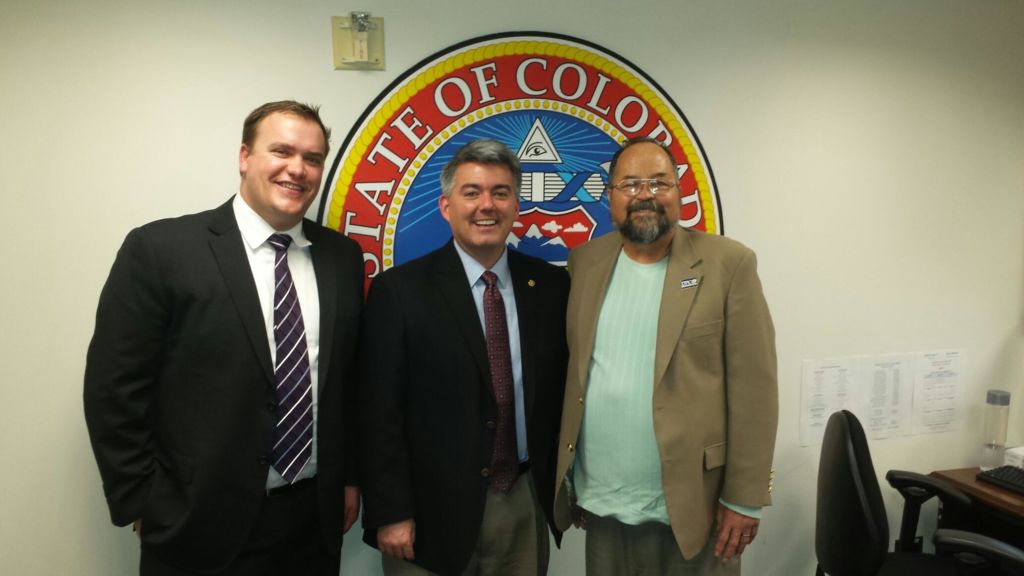 DPC Education Center Board Member Chuck Leggett (right) with Sen. Cory Gardner (center) and DaVita Facility Administrator Cole Casey (left)
Unfortunately, there were a few congressional offices that were closed for the day. When that happened our advocates left a packet of information discussing our priorities along with a personalized note for their Members of Congress. These offices also received follow-up e-mails that included video messages from our fly-in participants, along with a request for a follow-up meeting with DPC staff that they could call in to. The day before the storm, we had a videographer record the personal stories of our advocates as well as why they came to Washington, DC. These videos are now posted to YouTube, and you can also see them at the bottom of this page.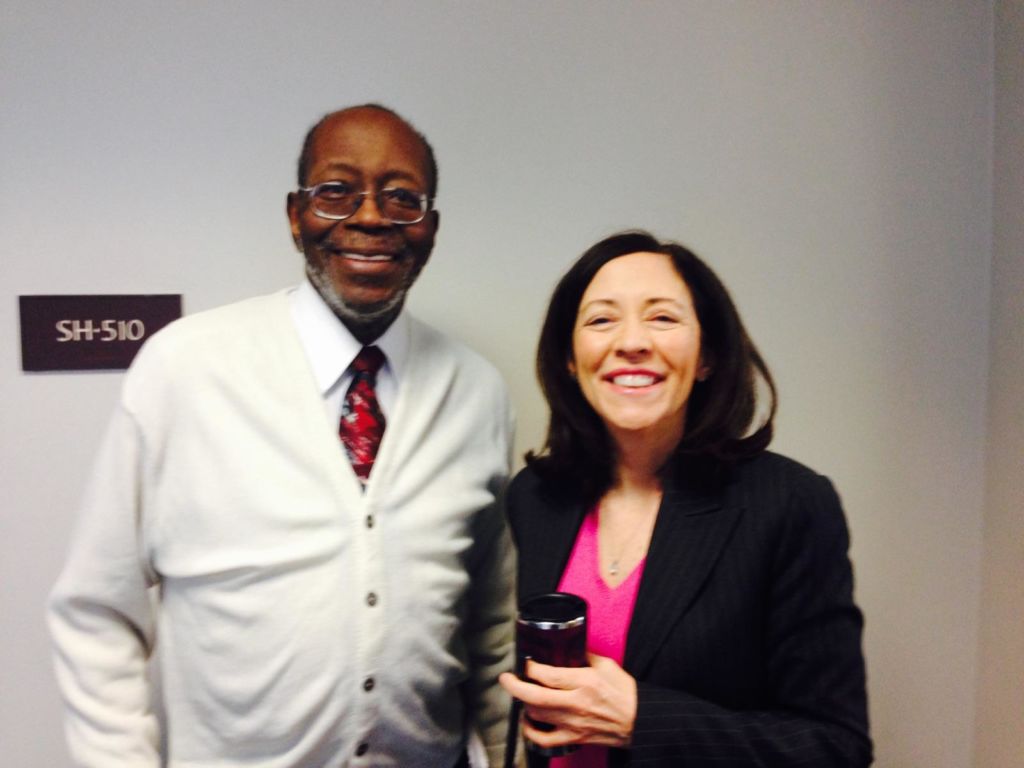 DPC Patient Ambassador David Grant with his Senator Maria Cantwell
While DPC had no control over the snow, we had our travel agent on standby, as a handful of our attendees' flights were cancelled or had to be rerouted in order to make connections. We also had a couple of DaVita and Fresenius facilities on standby, as a few patients received dialysis on Friday after their return flight was cancelled on Thursday. While we worked hard to anticipate every potential challenge, much of the credit goes to the many advocates who remained positive throughout, and remained committed to speaking out for all of those who could not be with us in Washington, DC.

DPC Board Member Mike Guffey (right) with Rep. Mike Pompeo's chief of staff (center) and DaVita Regional Operations Director Bethany Mills (left) 
One thing is certain, whether a seasoned advocate or a first-time participant, this was an adventure that no one will soon forget…and neither will the congressional staff whom they met with on Capitol Hill, as they heard firsthand from patients and healthcare professionals alike why they needed to support critical kidney legislation (while many others chose to stay home).
Below are videos patient advocates and healthcare professionals sent to their Members of Congress.
Patient Advocate Videos

John Ackland, DPC Patient Ambassador
Minocqua, WI

Donnie Anderson, DPC Patient Ambassador
Kalamazoo, MI

Diane Brisbane, DPC & DPC Education Center Board Member
Brooklyn, NY

Julie Crandall, DPC Patient Ambassador
Hurricane, UT

Ken Crandall, DPC Patient Ambassador
Snowville, UT

Christina Esposito, DPC & DPC Education Center Board Member
Brooklyn, NY

David Grant, DPC Patient Ambassador
Renton, WA

Alvin Gridiron, DPC Patient Ambassador
Indianapolis, IN

Mike Guffey, DPC & DPC Education Center Board Member
Overland Park, KS

Daniel Iniguez, DPC & DPC Education Center Board Member
Selma, CA

Liz Kashmiri, DPC Patient Ambassador
Laveen, AZ

Nafide Korkmaz, DPC Patient Ambassador
Patterson, NJ

Robert Lee, DPC Patient Ambassador
Portland, OR

Chuck Leggett, DPC Education Center Board Member
Colorado Springs, CO

Nance Lehman, DPC & DPC Education Center Board Member
Billings, MT

Devon Osborne, DPC & DPC Education Center Board Member
Hurst, TX

Darrel Ratliff, DPC Patient Ambassador
Madisonville, KY

S. James Schmittle, DPC Patient Ambassador
Erie, PA

Nancy Scott, DPC Education Center Board President & DPC Board Member
Newark, DE

Gwendolyn Snell, DPC Patient Ambassador
East Cleveland, OH

Ellen Sonenthal, DPC Patient Ambassador
Henderson, NV

Janice Starling-Williams, DPC Patient Ambassador
St. Petersburg, FL

Antoine and Treavce Whitmore, DPC Patient Ambassadors
Portsmouth, VA
Healthcare Professional Videos

Gail Begaye
Chinle, AZ

Sara Beidelschies
Sandusky, OH

Karen Blink
Benton Harbor, MI

Amy Bogan and Katie Ingram
Annapolis, MD

Cole Casey
Denver, CO

Derrell Chandler
Walterboro, SC

Janny Freeman
McKinney, TX

Dave Gelter
Cincinnati, OH

Kris Johnson
Zephyrhills, FL

Bethany Mills
Wichita, KS

Michelle Mortensen Sullivan
Missoula, MT

Luke Santillo
Kannapolis, NC

Seth Southwick
American Fork, UT

Yasuyo Tsunemine
Portland, OR

Ryan Welter
North Las Vegas, NV

Kathy Wiggins
Detroit, MI

Miles Williams
Birmingham, AL

Penny Winkelman
Waterloo, IA