When I first went into the hospital because of a heat stroke a few years ago, I never would've imagined it would lead to me starting dialysis. After 19 days in the hospital, I was back just one day after being discharged. Before long, doctors were forced to put me into a medically induced coma while I experienced heart and respiratory failure, which required a tracheostomy to help me breathe.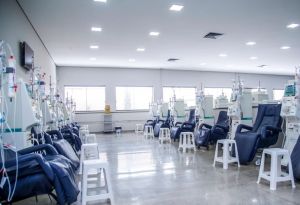 When I came out of the coma, I was already on dialysis. This diagnosis came with expensive new medications, and now I have to work to make sure my cardiologist and primary care doctor are working in coordination with my nephrologist to be sure my treatments align correctly. I also have to make several weekly trips to my local dialysis clinic 22 miles away. Even just getting there and back can be dangerous, since I suffer from low blood pressure, and driving after treatments puts too much strain on my body.
Lawmakers can help make things easier for patients by passing the Better Kidney Care Act. It would make it easier for dialysis patients' doctors to coordinate their treatments, and would also provide transportation to and from dialysis clinics for patients like me who need it. Beyond that, it would offer dental care to make it easier for patients to get a transplant.
I hope Rep. Buddy Carter and Georgia's other voices in Washington work on behalf of dialysis patients across the state.
Jonathan Mincey, Argyle, Georgia