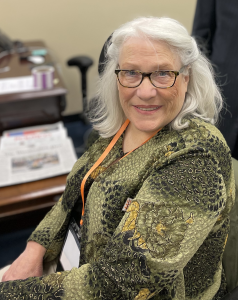 NEBRASKA — Fifteen states do not require insurers to offer Medigap policies to people under 65 who are already enrolled through Medicare according to AARP.
Medigap helps patients to afford deductibles and other out-of-pocket costs with policies such as Medicare Part B.
However, Nebraska is one of those states that doesn't require it to be offered, to the shock of one North Platte resident named Jean Kay battling multiple sclerosis.
"It was mind-boggling," said Kay.
Jean Kay has been living with MS for over 20 years.
Back in 2018, she was denied supplemental insurance due to her age of 61, putting increased financial strain on her family.
To keep up with her medical bills her husband was forced to take a job in North Dakota which included insurance, leaving her to fend for herself for over a year.
"There were so many things that I couldn't do," said Kay. "To stand on a chair and change a light bulb in the ceiling, there's no way I could do that. I relied on friends and family to help me with some of those things."
Ever since Kay has been a strong advocate for the approval of LB-32 which would change the requirements for insurers of Medicare supplement insurance policies.
She said that despite still being able to do certain things like cooking with her grandchildren, having the extra assistance would allow for more.
"It's not what I can't do, but it's what I can do that's important to think about," said Kay. "Focus on the positive, and if I was able to purchase the policy it would allow me to do some of those other things."
LB-32 was introduced by Senator Mike Jacobson earlier this year, but unfortunately never made it out of committee, and Kay continues to have hope and will work to ensure that it will pass next year.
Jean Kay, North Platte, NE