Former firefighter Terry Peeler of Livingston has released a statement urging Alabama lawmakers to support new bipartisan legislation that offers coverage for dialysis patients. Peeler's career as a firefighter ended when he was diagnosed with kidney failure.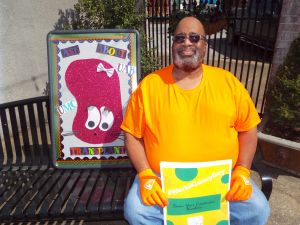 "Starting dialysis in 2016 was unbelievably difficult," Peeler said. "It brought my career as a firefighter to a sudden halt, and meant I needed to make a 72-mile round trip three times every week to undergo a procedure that takes five hours."
"I was fortunate, though, because the cost was not prohibitive for me," Peeler explained. "My job provided me with good insurance that gave me access to coverage other patients don't have because it isn't covered by Medicare."
"It's important that our lawmakers, like Congresswoman Terri Sewell, Senator Richard Shelby, Senator Tommy Tuberville, and others work to pass bills that make good coverage more affordable for dialysis patients, like the Jack Reynolds Memorial Medigap Expansion Act," Peeler continued. "It's a bipartisan bill that extends coverage for the "gap" created by what Medicare doesn't already cover to dialysis patients under 65, who often otherwise have to pay those costs out-of-pocket."
The Jack Reynolds Memorial Medigap Expansion Act was introduced in March by Reps. Cindy Axne, R-Iowa, and Herrera Beutler, D-Washington. The bipartisan legislation to expand access to Medigap insurance coverage was named in memory of John "Jack" Reynolds from Carlisle, Iowa; who required decades of treatment for kidney failure stemming from an accident he sustained at age 4. Jack's health condition inspired him to pursue a lifetime of advocacy for expanded coverage for others living with kidney disease.
The legislation is supported by advocates from Dialysis Patient Citizens, the American Kidney Fund, and MomsRising. The bipartisan legislation would expand access to Medigap insurance coverage to all patients living with end-stage renal disease (ESRD), regardless of age.
"Folks living with end stage renal disease should have access to life-saving medications, dialysis, and kidney transplants needed to treat their illness," Congresswoman Beutler said. "Unfortunately, thousands of Americans under the age of 65 living with ESRD are barred from obtaining a Medigap plan that could help cover the cost of these treatments. I'm proud to partner with my colleague, Congresswoman Axne, on this important legislation to put Medigap plans within reach and thereby ensure patients – regardless of their age – can access the care they need."
"I don't qualify for Medicaid under Alabama law – which is where I'm at – so I'm forced to try to cover that additional 20 percent any way I can," said Dialysis Patient Citizen Board President and dialysis patient Andrew Conkling. "I'm not eligible for a transplant because of other medical conditions, but I have other bills that I have to pay. I have to pay for a wheelchair because I have transportation issues and things of that nature. So, Medigap is a critical piece of legislation to all dialysis patients."
"We want President Biden to sign this into law as soon as possible," said American Kidney Fund President LaVarne Burton. "We want 2021 to be the year where all people with end-stage renal disease have access to Medigap coverage, regardless of their age and regardless of where they live."
"The bottom line is that we need laws that require supplemental Medigap plans be available to people of every age and every state," said National Director for Health Care for MomsRising Felicia Burnett. "The Jack Reynolds Memorial Medigap Expansion Act would expand access to Medigap insurance coverage to all patients living with end-stage renal disease. We need this bill to become law right away. I want to thank Representatives Axne and Herrera Beutler for sponsoring this bill, and our allies at dialysis patients citizens and the American Kidney Fund for championing it."
Jack Reynolds passed away in May 2020 from kidney failure at the age of 64. Before he passed away, Reynolds met with Rep. Axne in Washington to share his story. His continued advocacy until his passing inspired Rep. Axne to name the legislation in honor of his tireless advocacy for kidney disease issues both at the federal and state level.
For Americans living with terminal kidney illness, known as end-stage renal disease (ESRD), lack of access to Medicare or private insurance that covers dialysis can mean $72,000 in annual out-of-pocket costs. The only other treatment for renal failure is a kidney transplant. Tens of thousands of Americans are already on the waiting list for available kidneys. Many of them will not live to ever see that kidney. Dialysis extends the lives of many Americans with renal failure.
The Jack Reynolds Memorial Medigap Expansion Act would allow anyone nationwide with ESRD to purchase Medigap supplemental plans that cover kidney treatments by removing the existing age requirement.
Terry Peeler, Livingston, Alabama