By Carrie L. Director of Congressional and State Relations
As it has been mentioned in previous blog posts, World Kidney Day is a great opportunity to get out in the community and raise awareness about kidney disease. For us here at the DPC office, this means inviting some of our most active Patient Ambassadors from around the country to join us in the nation's capital.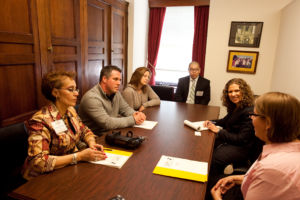 On World Kidney Day, the Patient Ambassadors will meet with their Members of Congress to talk with them about the policy issues that mean the most to kidney disease patients and to share their stories. Ambassadors help to put a face to our cause and educate their lawmakers about issues affecting thousands of Americans with end-stage renal disease (ESRD). There is no greater advocate for the kidney patient community than kidney patients themselves.
We will have 28 Patient Ambassadors on Capitol Hill March 14th and the time could not be more right to get our message out and build more awareness in DC. Just because you won't be with us on the Hill doesn't mean you can't help us out with this mission.
Be sure to check out DPC's Legislative Action Center on World Kidney Day and send any Action Alerts to your federal lawmakers because every voice plays an important role in these efforts!