My husband's journey with kidney disease forever changed my life. Over the past five years, we have seen countless doctors, traveled many miles for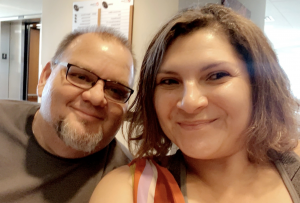 medical appointments, and both of us had lifechanging surgeries.
At age 39, my husband began dialysis treatments for his failing kidneys, a side effect of his lifelong battle with diabetes. We knew he would eventually need a kidney transplant but needed to get other health matters in order before that would be possible. Finally, my husband was ready for a kidney transplant, and we were fortunate enough that I was a match for him. On October 10, 2019, I was able to donate a kidney to my husband.
This entire kidney transplant journey was already an emotional rollercoaster, and on top of this were the expenses. After the transplant, my husband still needed expensive medications to survive. Kidney patients nationwide need financial help.
We need Congress to pass the Jack Reynolds Memorial Medigap Expansion Bill to expand access to Medigap coverage for those under 65. I know Congresswoman Sheila Jackson Lee (D-TX-18), who sponsors the bill, will do everything in her power to ensure it passes, and I hope other Texas legislators will do the same.
Michelle Martinez, Alice, Texas