Published in the Lincoln Journal Star
We hear endless stories in the news about challenges in our health care system, but oftentimes the effects feel abstract.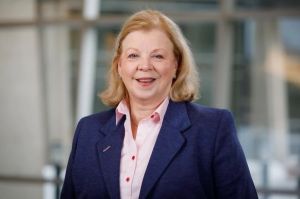 As someone who has dedicated their career to improving the medical care and outcomes of patients with kidney disease through transplantation, I've seen firsthand how devastating kidney failure can be, particularly for Nebraskans who don't have adequate health coverage.
While the situation is grave, our neighboring states have shown how state governments can provide life-saving relief. We would be wise to follow their lead.
While Medicare beneficiaries over age 65 can purchase supplemental coverage for the approximately 20% of costs that are the patient's responsibility, it is a different issue for those under 65. Many states require Medigap policies (supplemental insurance plans) be available at affordable rates; however, Nebraska is not one of them.
Our neighbors to the immediate north, south, and east — Minnesota, South Dakota, Kansas and Missouri — all require affordable Medigap policies to be offered to kidney disease patients under age 65. We should be able to do the same, which is why I am encouraged by LB32, legislation introduced by Sen. Mike Jacobson, which would allow Medicare recipients under the age of 65, who are disabled or have End-Stage Kidney Disease (ESKD), to enroll in supplemental Medicare insurance plans within the first six months of becoming eligible for Medicare.
For those with ESKD, the effects on their health can be devastating, particularly without proper medical coverage. Kidney disease affects blood cell production, causing anemia, bone disease and a progressive build-up of daily toxins affecting all organs of the body.
Moreover, as the condition of kidneys worsen, the likelihood of comorbidities such as high blood pressure and cardiovascular disease increases. This decline in health can be both rapid and demoralizing.
While many patients do well on dialysis, the optimal therapy remains a kidney transplant, which can double the life expectancy of dialysis patients while also greatly reducing treatment times.
Sadly, a patient's likelihood of receiving a transplant is greatly impacted by their health insurance. Eighty percent of transplant programs require patients to have sufficient health insurance to cover out-of-pocket costs, deductibles, medications and follow-up expenses related to a transplant in order to qualify for and remain on the active kidney transplant waitlist.
This is probably the reason that Nebraska ranks last among states in the percentage of dialysis patients on the transplant waitlist. If Nebraska rose to the national average, twice as many kidney patients would be free from the shackles of dialysis and could resume working.
While the need for a fairer Medigap policy in Nebraska is clear, the explanation for why this hasn't happened already is not. Despite arguments from the insurance lobby about how such a policy would result in unaffordable premiums for Nebraskans, a 2022 study from Health Management Associates shows if all Medigap carriers were required to offer policies to the under-65 population with ESRD and limit the premiums to the same charged to Medicare individuals age 65, the overall average Medigap premium in Nebraska would increase by just $1 per month.
LB32 was introduced back in January but never made it to the floor for a vote. I implore our Legislature, as soon as possible in the next session, to pass LB32 so that Gov. Jim Pillen can sign it into law. Nebraskans are suffering, and we have a solution. It's time we catch up to our neighboring states by expanding Medigap policies to kidney patients.
Roslyn B. Mannon, MD, is the vice chair of research, Department of Internal Medicine, a professor, Division of Nephrology, and Nephrology associate chief of research at the University of Nebraska Medical Center.