To the Editor:
Life with kidney disease is all I've ever known. I was born with this hidden illness and started receiving dialysis treatments at just 25 years old. Over the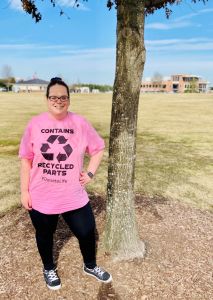 years, I've experienced the various hurdles patients face both as a kidney patient and as someone who is legally blind.
Before my kidney transplant in 2018, I did in-center dialysis. As someone who is visually impaired, driving to and from the center wasn't an option, so I relied on other forms of transportation, which became costly. I'm covered by Medicare and Medicaid for the dialysis itself, but still have to pay for things like transportation.
These extra costs add up, and I was left paying for them on a fixed income since I had to stop working. It's time for Congress to do something, which I have made clear in meetings with lawmakers through my own advocacy work. I encourage Congressman Rick Allen (R-GA-12) to cosponsor the Jack Reynolds Memorial Medigap Expansion Act. This bill would make Medigap plans to cover the entire costs of dialysis Medicare doesn't pay for available to all kidney patients, even if they're under 65. There is no escaping kidney disease, and patients across America need help.
Kristi Flynn, Grovetown, Georgia
This piece was originally published in the print edition of The McDuffie Progress, a newspaper based in Thomson, Georgia.