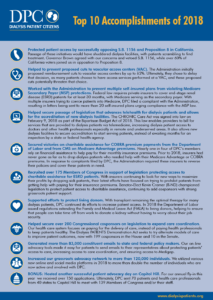 Dialysis Patient Citizens wants to wish you and your family a Happy Holiday, as well as a safe and healthy New Year.
We also want to take this opportunity to share with you our Top 10 list of accomplishments for 2018, which would not have been possible without your support.
Thank you for helping us elevate the dialysis patient voice with policy makers. We are extremely grateful for all of your efforts, and we look forward to our continued collaboration in 2019 as we work together to improve dialysis patient quality of life.